Events
Half Embalmed: Taxidermy, Curiosities, and Oddities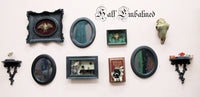 Exhibition of Simone Smith's current work inspired by Halloween and the Fall season. Bats, framed spider webs, skulls, and even a fortune telling mouse are on display through the month of October. Also on display is Bobby Reynold's famous two-headed goose on loan from the Circus Emporium.
The Little Shop of Hers, 416 2nd st, Eureka, California 95501
Leave a comment (all fields required)
Comments will be approved before showing up.