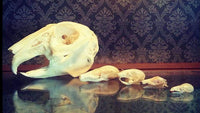 Time & Location
Aug 31, 7:00 PM – 9:00 PM
Darkwood House Gallery
10916 E Winner Rd, Independence, MO 64052, USA
About the event
Learn how to find, clean and preserve bones yourself!
Licensed taxidermist Simone Smith and expert ghoul, Haunter Darren, will cover a wide range of information whether you're just starting out working with bones or if you've already had some experience.
We'll guide you through everything you'll need to know to start collecting and cleaning bones right away.  You'll learn about the equipment needed and the different methods of cleaning that you can choose from.  And we'll answer your questions about safe practices and the legalities of bone collecting and selling your finished specimens.
Tickets are $40 each. You will receive a handout, some basic equipment, and all the guidance and instruction we can give you!
This is an Adults Only 18+ class!
Purchase tickets through Darkwood's website Here.