Events
Witches Tea at the Albrecht-Kemper Museum of Art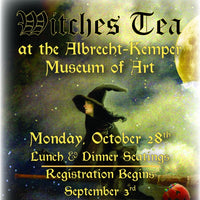 Halloween is on the way,
It's time to come out and play at the Albrecht-Kemper's Witches Tea.

Enjoy a fiendish feast of lurid fare or nibbles of a nasty nosh slashed and skewered by Luna's Fine Dining's Chef Ralph (Kill)ipelli! Lunch and dinner will be conjured to include an entree, drink, and a devilish dessert. A cash bar will be available offering wine, beer, and stronger witches' brew for an additional charge.

There will be malevolent mind-readers, putrid prizes, wayward witches, vicious vendors and sickening surprises.

Costumes strongly encouraged and you should definitely wear your best hat. Which hat? A Witch Hat! Where should you wear it? The Albrecht-Kemper Museum of Arrrrrg. Be sure to enter the costume contest for a chance to win sinister prizes.

Halloween vendors will also be on site, so remember cash is King of Coins at this Spooky Soiree.

This event is not for young ghouls, it is designed for their mummies. Warlocks, of course, are welcome too!

Gather your coven and their brooms and reserve your spot today! Call the AKMA 816-233-7003 Ext. 301 to make your reservation or sign up online! If you come with your coven be sure to make note and let us know who you are sitting with. Seating will be based on the number in your party and how early you make your reservations!

Monday, October 28th, 2019

Luncheon– Doors Open at 11:00 a.m. – Lunch is served at Noon

Dinner– Doors Open at 5:30 p.m. – Dinner is served at 6:30 p.m.

Leave a comment (all fields required)
Comments will be approved before showing up.