Events
Oddities and Curiosities Expo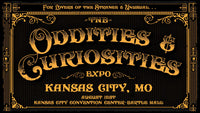 Half Embalmed will be vending this August at the Kansas City Oddities and Curiosities Expo, which will be even bigger than last year! The expo will be at the Kansas City Convention Center in Bartle Hall on August 31 2019. For more information visit the expo's website here.
Leave a comment (all fields required)
Comments will be approved before showing up.