Events
Oddities and Curiosities Expo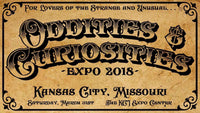 MARCH 31, 2018: KANSAS CITY ODDITIES & CURIOSITIES EXPO. Half Embalmed will be vending along with Noir Arts and Oddities and Darkwood House. 

** Vendors with items such as: Oddities, Weird taxidermy, wet specimens, antiques, odd jewelry, unusual art, animal bones, curiosities and all around creepy, strange and bizarre items. . . * 

DATE: Saturday, March 31, 2018.
TIME: 11AM - 7PM.
ENTRY: Only $5 entry - kids 12 and under free.

LOCATION: KCI Expo Center. 11730 NW Ambassador Dr, Kansas City, MO 64153

More information HERE
Leave a comment (all fields required)
Comments will be approved before showing up.